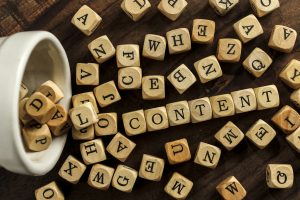 As I'm sure you are aware, content marketing is a great way to increase web-traffic, to drive interest towards your business and to share interesting information with your readers. According to Aberdeen1, "annual growth in unique site traffic is 7.8x higher for content marketing leaders compared to followers".
Of course it can often be difficult to come up with new and interesting content on a regular basis, so we have compiled a list of content suggestions for you guys to read through and hopefully gain some inspiration from!
1. Statistics.
A great way to share really interesting info in a succinct manner is through the use of statistics. Why not compile a '15 Marketing Statistics You Need to See' type article?
2. Lists.
Lists are another great idea for content. We often use this style of article and it is always well received. It makes for an easy read whilst simultaneously providing loads of info to the readers! It doesn't overwhelm the reader with a huge page of text either and a study by NewsCred2 found that the median time spent on an article was 37 seconds, so you need to make sure your article appeals to the reader within that time.
3. Trends.
What about writing an article discussing the latest trends or even predicted trends for your chosen industry – these are a great way to show off your knowledge and expertise within the industry and are sure to get people talking!
4. Interviews.
This option is one we have used before, when we interviewed Paul Bobnak, an industry expert in the direct mail business, for tips and an insight into the industry! It's a really nice idea for gaining insight from an outside perspective, as it is easy to get caught-up in focusing solely on your own experiences in the business.
5. Infographics.
These provide a great content piece – they allow a huge amount of info to be really quickly and easily digested by whoever is reading it. Researchers3 have found that colour visuals increase the willingness to read by 80% – check out this interactive infographic for more info on why they are so successful!
6. Surveys.
This is another great way to engage your readers, find out more about what they think and in the end, you get an interesting article out of it all also!
7. Guides.
Create simple guide articles, for example a 'Beginners Guide to …' whatever is relevant to your industry. These are again really useful and people often search for 'How to' guides online, I know I sure do, so this is a great way to boost traffic.
8. Launch a Product.
Yes you read that correctly. Maybe you have a new service or product you're super excited about. This is the perfect time to write a really great article sharing your enthusiasm about this new concept to get your readers excited and intrigued. Also, this should hopefully generate interest from buyers so it's a win-win.
9. Reviews.
Choose a product or a service related to your industry and review it for your readers. I find myself reading reviews all-the-time before I make purchases. It's a great opportunity again to show how knowledgeable you are on your industry.
10. Guest Writers.
Another great way to gain insight from an outsider. Smaller blogs will certainly be interested in the publicity so why not contact them and see if they would like to provide some fresh content for your website.
So that's it folks – 10 great ideas for content you can hopefully use for your website. We have certainly found success with many of these and we hope you can too! Let us know what you think in the comments!
References
1Aberdeen: https://marketeer.kapost.com/content-marketing-stats/
2NewsCred: https://insights.newscred.com/data-from-10000-articles-prove-that-content-marketing-really-does-work/?utm_source=newsletter&utm_medium=email&utm_campaign=10000-articles-content-works&mkt_tok=eyJpIjoiWTJFNE0yUmpOamt5TkRnMSIsInQiOiI2N0NWNTRESjdweUF5
3 Green, R. (1989). The Persuasive Properties of Color, Marketing Communications. – https://neomam.com/interactive/13reasons/#sthash.yi1uxFBR.dpuf