On 23rd May 2017 at Google Marketing Next (an annual event run by the multibillion dollar company to showcase their latest innovations for ads, analytics and DoubleClick), Google revealed to the world a product which hopes to answer the question as to whether your marketing campaign is working: Google Attribution. But what exactly is Google Attribution and how can your company use it?
Attribution
To understand what Google Attribution hopes to achieve, we must ask ourselves this: what is attribution? In marketing, attribution is the identification of a set of user actions that contribute in some manner to a desired outcome, and then the assignment of a value to each of these events1. In layman's terms, this is the process of identifying what exactly convinced the consumer to purchase your company's products or services.
Last Click Model
Google Attribution hopes to be a replacement for one of the existing attribution models – Last Click. The Last Click attribution refers to a web analytics model in which the "last click" is given credit for a sale or conversion 2. This a model which works exclusively with online sales. If someone was to buy a products or service from your company's website, you should have a web analytics system that tells you where that person came from – whether it is from a banner advertisement or your Facebook page.
However, apart from being an attribution model which only works on websites, its other flaw stems from the fact that consumers will often come to your website multiple times before actually making a purchase. Because of this, most web analytics packages accredit the sale to the 'last click' that brought them to your website. This therefore means than a very large majority of sales come from branded keyword traffic (i.e. typing your business's name into a search engine), which doesn't really tell you how the consumer first learned of your business.
Google Attribution
Google Attribution is designed to be an easily set-up attribution tool which can keep track of a consumer's journey through multiple devices, and a tool that seamlessly integrates in with the other advertisement tools they offer (AdWords, Google Analytics and Double Click Search).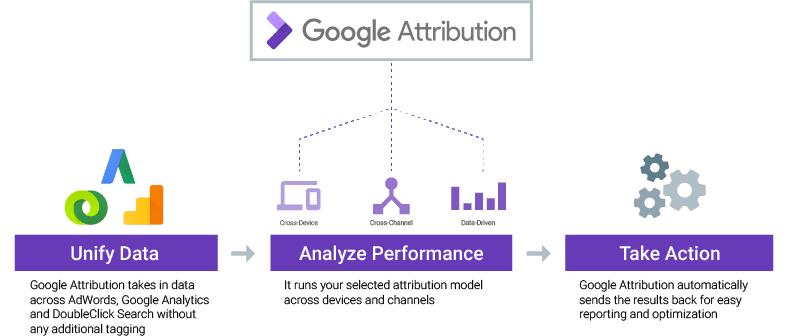 As shown above, Google Attribution will firstly unify all your data and display it all together – giving you a complete view of your company's performance. You then choose which attribution model to run across all devices and after this analysis, it sends you back your results for easy reporting and optimisation. The fact it works over multiple devices means it will hopefully overcome the problem 'Last Click' suffered from, as it should be able to work out successfully what path the consumer took to purchase from you.
In conclusion, Google Attribution could be a very valuable asset to your company. It can help you determine exactly what marketing methods are working for you and how you can improve the methods which aren't working so well. If you already use other marketing tools from Google, then integrating Google Attribution into your business will be extremely easy and could prove invaluable for you.
References:
1: Definition of Attribution in business: http://www.iab.net/media/file/AttributionPrimer.pdf
2: What Last Click Attribution is: http://willmarlow.com/last-click-attribution/