As mentioned in our article on 'How to Get YOUR Direct Mail Noticed', a multi-format campaign can often give a potential customer a much bigger and better insight into what you have to offer by allowing them to witness first-hand what your company is about.
It has been shown that 52% of marketers now use 3 or more channels versus 44% in 2015.1 So make sure to sell your brand in more than one place. In this article, we've focused on the importance of your company website. So, you've sent out a direct mail piece. That was your first step. You've drawn their interest, what now? Hopefully if the mailer was successful, the customer wants to know more. What should the first port-of-call be?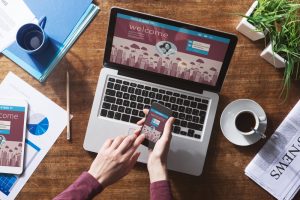 Your company website of-course. A good website is of the utmost importance especially today when there is so much competition online between different businesses. These simple key points can help you to create the perfect website that will keep potential customers engaged and give them the right impression that you mean business:
Make it user-friendly (and mobile!)

This should be obvious, make sure the customer can clearly see how to navigate your site. If it's a struggle to find what they're looking for, customers may very quickly exit your site. A further point to this, make sure it is mobile compatible!

According to a report by KPCB US in 20152, mobile digital media time is now significantly higher at 51% compared to desktop at 42%.

In case this wasn't enough for you, 67% of consumers have said mobile friendly sites make them more likely to buy a product or use a service3. Worth taking into account!

Great Content.

It is key for getting traffic to your website. It's what sets you apart from the masses. And it helps with the all-important search engine rankings! In a later article we will be discussing ideas for great content and how to improve your search engine rankings.

Straight to the point.

Don't over-crowd your website. Keep it simple. Does your website clearly tell the user who you are and what you're about? It might seem obvious but users should almost immediately be aware of what it is you're selling or providing. Remember also, you're probably targeting a certain audience depending on the business, so tailor it towards them! Within a few minutes, the customer will want to know what to do next. If they need to sign up to something, is there a clear place for them to click into this? Maybe they want to make a purchase – is this easily and smoothly done? Things to consider as no one wants to be faffing around for ages and little things like this can make or break someone's decision to stay on your site!

 Make it stand-out.

And make it memorable. Just like great direct mail pieces that resonate in people's minds, a website can and should do the same. Create a customer experience through your website that they are bound to remember and hopefully tell others about.

Engage Customers.

They've come to your site, so keep them involved. Have links to your other social media pages where they can easily follow you within a few clicks. See why social media can be so beneficial to your brand in our next article 'Social Media and You – What Can Social Media Do for Your Business'.
One last point worth considering, if you have the budget or the know-how, why not consider making an app for your business. A report from Compuware as shared by Econsultancy in 2013 suggested that consumers had a strong preference at 85% in favour of apps over mobile sites! With the huge rise in popularity of mobile apps it is worth having your foot in the door of this pool of potential customers that prefer mobile apps to websites.
So there you have it. Is your company website up to scratch? Or does it need some improvement. Let us know in the comments what you think!
References
1DMAs Response Rate Report 2016
2Smart Insights. (2015). Insights from KPCB US and global internet trends 2015. [online] Available at: https://www.smartinsights.com/internet-marketing-statistics/insights-from-kpcb-us-and-global-internet-trends-2015-report/ [Accessed 11 Sep. 2016].
3Google, Sterling Research and SmithGeiger, What Users Want Most From Mobile Sites Today, July 2012.
4"85% Of Consumers Favour Apps Over Mobile Websites". Econsultancy. N.p., 2013. Web. 13 Sept. 2016.