PERSONALISATION PLUS PRINT FROM A SINGLE SOURCE
Give your communication a powerful advantage by combing cutting-edge mailing with high quality laser print services, inkjet, digital and litho.
There's no longer any need for the added complexity and expense of separate print services. Instead you can opt for efficient mailing combined with print services of uncompromising quality in one single order.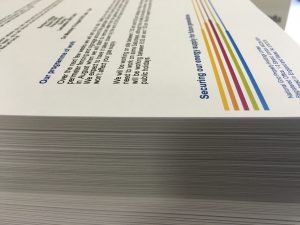 Your message isn't just in the words – the quality of print speaks volumes about your company as well. A good reason to work with all the reassurance of the latest postal and print innovations and the ecological integrity that a 21st century business expects.
Several unique advantages:
FEATURES
Personalise by text – letters, envelopes, booklets
Personalise by image – letters, envelopes, brochures, postcards
Print generically – letters, brochures, postcards, leaflets, newsletters
Print in colour and mono, all formats, all sizes, all finishes 
Bring your ideas to life with a trusted direct marketing provider for hundreds of businesses, thousands of projects and millions of pieces of mail. Whether you want free advice or are simply looking for someone new to produce your print and mail, we are confident that you will be happy with the results.
Contact Us Today!
Sharp Cat is a tried and trusted provider of well supported print and mailing operations.