Mail Opt Out
As a responsible company you want to make it easy for your mailing audience to opt in or out of your database.  We are one of the only Mailing Houses in the UK to have a dedicated web site enabling businesses and consumers to set up their own mail preferences, free of charge. http://MailOptOut.co.uk
Registering with the Sharp Cat Mail Opt Out scheme is one of the single most effective measures that individuals on your database can take to reduce their unwanted mail. This free preference service allows addressees to unsubscribe from the database used to mail them.  Using the mail code printed on the envelope they have the choice to opt out from all data lists held by you or just one that is specific to a piece of mail.  Any future mailings you may be doing with us will exclude these addresses.  The opt out will take approximately 2 weeks before it is fully effective, and an address will remain on the opt out list until we know otherwise. We will work with you regarding the optimal length of time you would like for the suppression.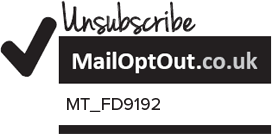 All returned mail arriving at Sharp Cat is physically counted and documented- including the reason for return if known – and the information sent onto you at the month end.  If you opt-in to the returns management service, there are several options available depending on whether or not you want the data.
Returns

Return to sender
Address not found
Please remove me - GDPR
Refused access
If yes – We will capture it free of charge and then supply you with a CSV file so you can update your own database.
If no– nothing further will happen or
We will create a Gone Away Gateway Suppression file for you which holds all the returns data so that any future mailings can be checked against it. This file is both encrypted and secure.  Benefits of this service include
postage and material cost savings since gone away records will not be mailed
a suppression buffer, giving you time to update your own CRM
a reputation for accurate service
office space free from old posting packs.
Finally, mailing without permission to anyone registered on a mailing preference service is not data compliant and risks a fine. This is especially important to note when the European GDPR is implemented in 2018.
Data registered with Mail Opt Out is extremely valuable since analysis of returns data is critical to any successful campaign.  Get data right and you'll have precision-focused mailing that delivers results.