Five trends predicted to be incorporated into 2017 marketing budgets, let us know if you agree with them below.
Invest in Social Media Budgets
A report from Mike Uehlein1 looking at the DMA's Statistical Fact Book found that over the next five years, social media will grow to 24% of marketing budgets, up from 10% today. Social media is essentially a free platform through which you can advertise your company and gain insights from your customers. There are so many different platforms for gaining analytics from nowadays too. It would seem crazy not to be focusing on using these tools. We fully expect the social media trends to continue for a long time.
Personalized Content
There's a huge amount of content available today already. The amount of emails and ads customers receive on a daily basis is increasing. Customers are looking for a more personalized customer experience as opposed to the same old sales pitch that is just there to gain from the customer. The average office worker receives 121 emails per day2. So customers want to know they are valued as individuals rather than just another potential target for business. One way to achieve this is through personalized content. We therefore believe there will be a trend of movement towards greater personalization in 2017.
Video Streaming Trends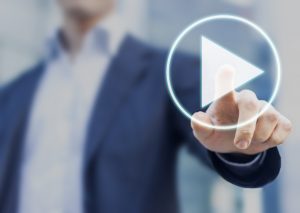 Live streaming has suddenly become this great new concept and trend this year, especially since the introduction of the feature by social media giant Facebook. With the increasing popularity of videos online, it seems appropriate to incorporate this into your business marketing budget.
Even a short video blog can give customers a really good insight into the company. Consider a live stream from a conference or an event? The possibilities are endless and with the advent of live stream from places like Facebook there are no excuses for not taking advantage of it.
Mobile Compatibility
There is a continuing huge move towards mobile increasing every day and research over at Statista3 has predicted there will be a 2.5million increase in the number of mobile users in the UK between 2016 and 2017, going from 42.4 to 44.9 million. In order to keep up with the increasing use of mobile devices, there will be a need to continue to produce content that is optimized for a range of mobile devices. IS your company website mobile compatible? We expect to see more companies making this trend a priority in the coming months.
Content Marketing
Content marketing is increasingly popular and this coincides with the increasing popularity of things like social media. A report from Dun and Bradstreet4 in 2015 claimed that of 478 global CMOs and senior marketing execs interviewed, a whopping 75% thought that marketing would be responsible for the end-to-end customer experience over the next 3-5 years. Content marketing has a huge range of benefits already so we expect it to continue to grow in popularity also.
So there you go, five trends we expect to see in 2017.
References:
1https://www.linkedin.com/pulse/7-trends-should-shape-your-2017-marketing-budget-mike-uehlein
2https://expandedramblings.com/index.php/email-statistics/
3https://www.statista.com/statistics/270821/smartphone-user-in-the-united-kingdom-uk/
4https://www.dnb.com/content/dam/english/business-trends/netProspex_2015_state_of_marketing_data.pdf