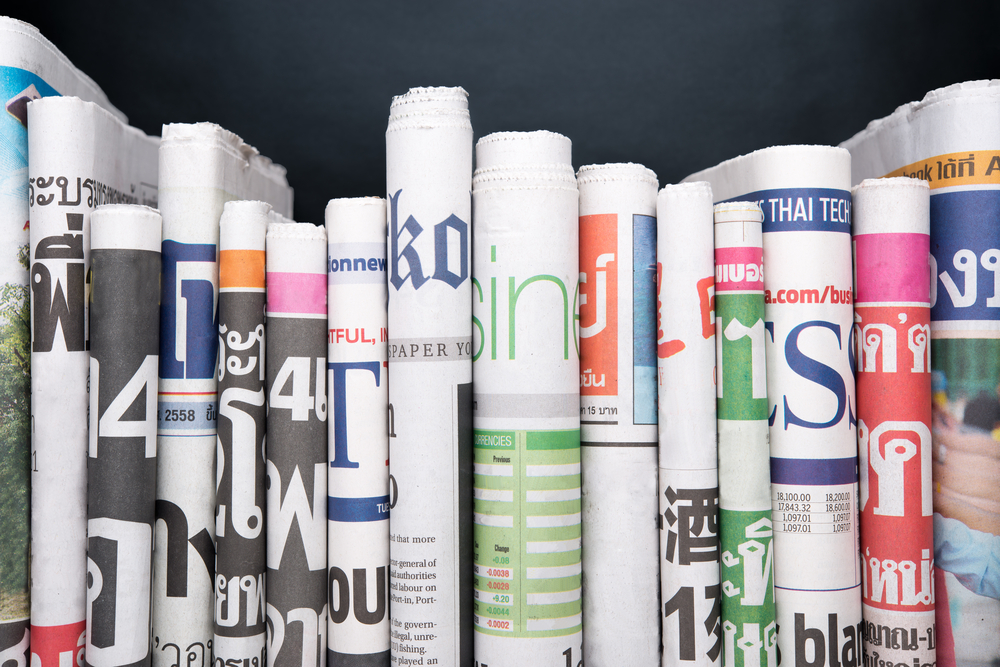 Today's digital world brings about a plethora of sources of information, every minute of the day thousands of articles are posted around the world. A huge 2 million blog articles are posted daily1, there is therefore a huge amount of competition out there already.
So, how can you make sure it's YOUR articles that are getting noticed?
According to CopyBlogger2, whilst 8 out of 10 people will read a headline, only 2 out of 10 will actually proceed to read the rest of the article.
This really goes to show the importance of a good headline f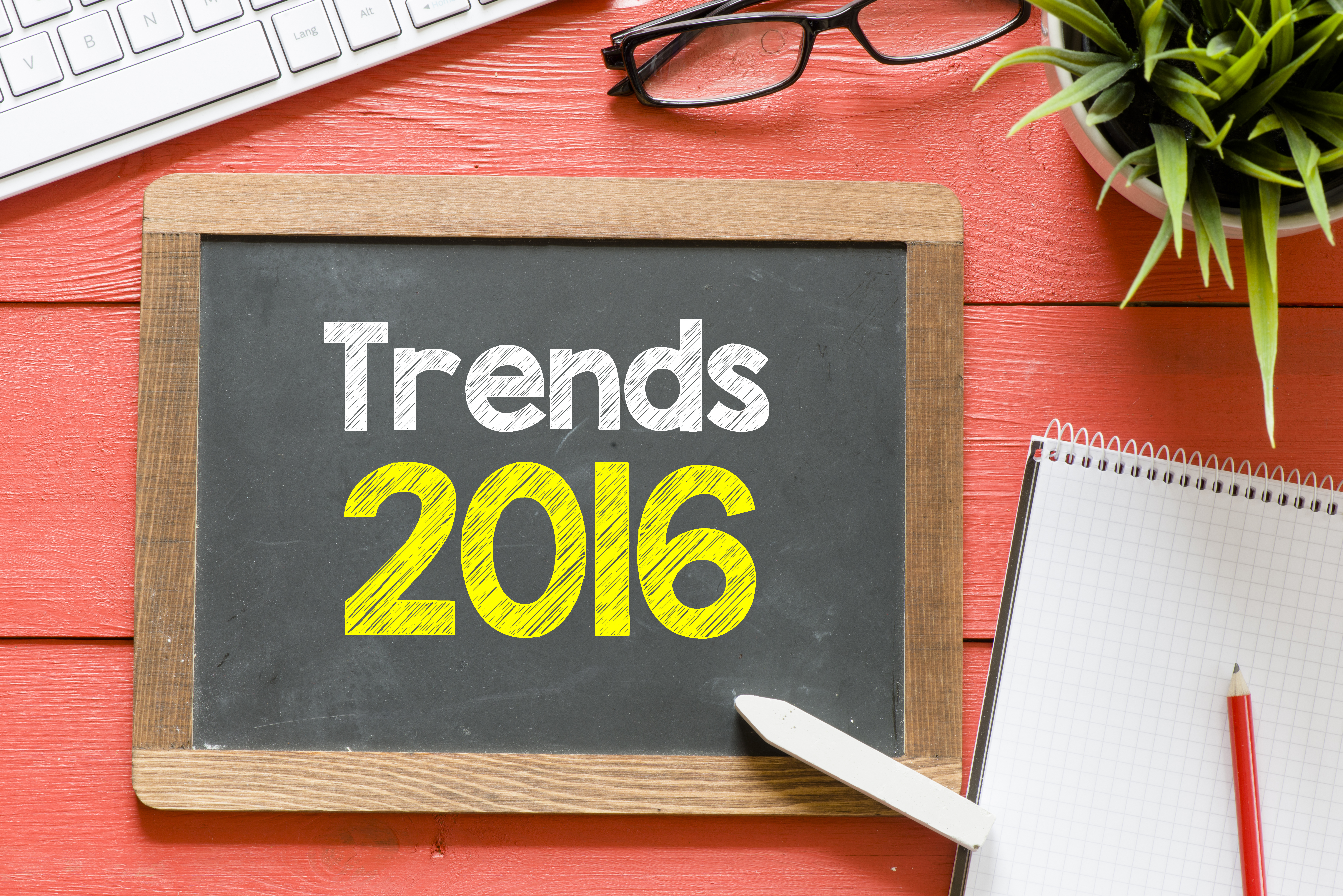 or you articles. Peter Koechley3 said that the difference between a good headline and a bad one can have huge effects – in addition to this, when tested, some headlines saw a huge 500% difference in amount of readers! This goes to show how crucial a really great headline is. To make your lives easier, we've discussed a few ways to write a really great and engaging headline.
Use Numbers in Your Headline
A study over at Conductor decided to investigate five different types of headline styles from 'Question' styled, to 'How To' or 'Number' related titles. They found some resounding results that showed that headlines that include numbers came out on top. We have included their graph and a link to their article below: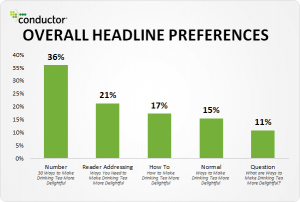 Source: 4https://moz.com/blog/5-data-insights-into-the-headlines-readers-click
Aside from using numbers to draw readers in, relatively high success was also found using titles that addressed the reader, so it's worth considering those kinds of titles too depending on what your article relates to. So aside from drawing readers in with interesting stats, what else can you do.
Make it Unique and Quirky!
As with all things, you want to stand out from the crowd. Make it a title that doesn't just blend into all the other similar articles out there. An article over at QuickSprout5 used a good example they found from Copy Hackers:

Source: https://www.quicksprout.com/the-definitive-guide-to-copywriting-chapter-3/
As discussed, whilst this is more of a tagline, it still grabs the reader's attention because it's unique and stands out. Sometimes taking risks is the edge you need to stand out from the crowd and it certainly worked for Copy Hackers!
Make it Informative
In order to make sure the reader becomes one of the 2 out of 10 people who actually go on to read the article, you need to make sure they know exactly what they are going to get out of the article just from reading the headline. Therefore, by using headlines like the one for our article '10 Great Content Ideas for Your Business' you know straight away that the article will contain a list of tips and ideas for writing new content, removing any ambiguity!
Consider SEO and 'Tweetability'
When writing your headlines, they need to remain under 117 characters in order to be fully viewed when people retweet your articles so keep this in mind. Further to this, even shorter titles at around 65 characters tend to work best for SEO according to an article from Wersm6. To add to this, try and omit non-essential words, don't just try and pad it out. Get straight to the point as that's what the readers want!
Think About Your Target Audience
Finally, there's a high chance your blog article is aimed at a select group of people, so make sure this is clear from the title! You understand your audience and what they are there for, so make use of this when coming up with a title. Don't be afraid to address the audience in the title either, for example 'Ten Marketing Trends You Need to See for 2016', this way the reader may feel they are being called to read the article.
In conclusion, the headline is a really important part of the article so don't be afraid to spend some time coming up with a great and captivating one. In addition to this it may be worth your while even coming up with a few and giving yourself a choice. Hopefully these tips have shed some light on ways to do so, let us know what you think below, do you have any top tips to share?
References:
12 Million Blog Posts Are Written Every Day, Here's How You Can Stand Out. "2 Million Blog Posts Are Written Every Day, Here's How You Can Stand Out". MarketingProfs. N.p., 2016. Web. 05 Oct. 2016.
2"How To Write Magnetic Headlines". Copyblogger. N.p., 2016. Web. 05 Oct. 2016.
3Tate, Ryan. "Tabloid Chic: How Racy Headlines Unlock Money And Power". WIRED. N.p., 2016. Web. 05 Oct. 2016.
4"5 Data Insights Into The Headlines Readers Click". Moz. N.p., 2013. Web. 05 Oct. 2016.
5"The Definitive Guide To Copywriting – Chapter 3". Quick Sprout. N.p., 2016. Web. 07 Oct. 2016.
6"How To Write Amazing Headlines To Attract, Engage And Convert More Visitors -". WeRSM | We Are Social Media. N.p., 2015. Web. 7 Oct. 2016.